Lifelong Resident
Community Builder
Youth Champion

Dear Neighbor,
As one of you, I understand and want to continue to do my life's work to bring people together.
Growing up on Woodward Avenue and Clifton Street in Roxbury, I learned at a very young age the power of hope and transformation. As a child, I witnessed my neighbors fight for this very community. By age 13, my activism was growing as a youth leader advocating for environmental justice and resident power in the Nubian Roots Youth Committee of the Dudley Street Neighborhood Initiative.
I am running because I understand and I care.
I am running to represent the community we love.
I am running because I am a youth advocate, coalition builder and a survivor.
I am running because I am a lifelong resident of this community, who has dedicated over 20+ years of my life to improving opportunities for young people, to create stronger and safer communities for all of us, and to uplift resident-led community change in our district.
I am running because I am the child of a hard-working and generous teen Cape Verdean mother who emigrated to this country for a better life and has worked over 30+ years in the kitchens of Boston hotels.
I am running because I am a woman who has lost her friends and family to incarceration and a sibling to gun violence in Boston.
I am running because I have the passion, experience, and leadership to engage with fellow neighbors and to be effective on the floors of our State House making policy changes, directing investments and championing causes we care about.
I am running because I had great mentors, attended amazing youth programs and quality schools and have been afforded opportunities of a lifetime - and I want to ensure that all of our youth regardless of their zip code get the same chances to reach their full potential.
I am running because children of this city deserve to work and purchase a home in the same neighborhoods they grew up in.
I am running because I am dedicated to this community and you.
I am running to serve and work with you as your next State Representative of the Fifth Suffolk District.
I am running because I have sat on boards since the age of 16, where Residents like you have worked tirelessly to improve our quality of life.

I am running because as an Educator and Entrepreneur I know first hand that our small businesses are the fabric of our community. They need equitable policies and resources to thrive.

I am running because we deserve a district we can build together.
Our time is now.
Join our movement to build more bridges and create change we believe in.
~Liz

News
Thursday, October 11, 2018 9:22 AM
Bay State Banner: Community discusses response to violence
Questions swirled after five homicides happened in rapid succession last weekend in Boston: What led to the uptick in violence? Will there be a cycle of retaliation? Is violence spiraling out of control?
At her Bowdoin Street campaign office, just blocks from where one young man was gunned down, community organizer Liz Miranda opened a community meeting, co-hosted with youth worker Romilda Pereira, by simply asking the 50-or-so community residents how they were coping.
In their answers, Dorchester and Roxbury residents expressed anger, frustration and fear.
"I watched a car pull up and shoot my neighbor dead," one woman said, choking back tears. "I heard five gunshots and ran toward him as they continued to fire into him. I cradled a kid who could have been my son as he died. I didn't sleep last night."

Community support
Liz Miranda and Romilda Pereira (far left) host the meeting. Banner Photo
As the woman wept, Miranda pointed to the women sitting in the front row of folding metal chairs.
"You have multiple mothers with you in the front row," she said. "Mothers who have lost their sons."
The meeting continued as the women comforted the witness to the latest homicide in the neighborhood.
Miranda and Pereira said they called the meeting with the aim of helping neighbors work together to prevent violence and avail themselves of resources.
"We need to do better to work together to heal," said Pereira, a youth worker who knew two of the slain youths. "They were on my caseload, kids I've worked with," she said.
Police officers including Area B-3 Captain Haseeb Hosein were in attendance as were Rachael Rollins, the Democratic nominee for Suffolk County District Attorney, state Sen. Sonia Chang-Diaz and the Democratic nominee for 15th Suffolk District representative, Nika Elugardo.
Pereira told meeting participants that she witnessed and participated in acts of violence as a teenager and wants to do her part to end the cycle of violence in the community.
"I am 36, but every time this happens, it re-traumatizes me," she said. "I want better for my children and I want better for all the children in this community."
Hosein told the Banner officials have no explanation for the rash of shootings last weekend, all of which were thought to be unrelated.
"Why this is happening, no one knows," he said. "We had a quiet summer. We can't put our finger on any one reason. It's just the ebb and flow of violence."
Hosein noted that shootings are down, with 45 fewer people shot so far this year over last year, although the rate of homicides — 43 so far in 2018 — is higher than last year.
He said that Mayor Martin Walsh and Police Commissioner William Gross have told commanders to use whatever resources they need to keep communities safe.
"We're here," he said. "We'll be visible. We're accessible. You can call us any time."
Earlier in the day, Hosein met with the mother of Terrell White, who was shot and killed on Itasca Street.
Trauma support
Miranda, who lost her younger brother to violence last year, acknowledged that survivors of violence need support.
"I know what it feels like to get that call and not know what to do in the next 24, 48 or 72 hours," she said.
Charlene Luma, director of the city's Trauma Response Team, said her group reaches out to family members, friends and witnesses of violence. She told audience members she and others from the team are available to help.
"There may be times when you're not ready to talk to anybody," she said. "What's good about our team is that we're ready to talk to you at any time."
The Rev. Mariama White-Hammond said that she and others in the community have provided services to people suffering from violence-related trauma for years without city support and suggested that the city incorporate more community residents into its trauma response strategy.
"If there is a need, there are people willing to help," she said.
Boston Police Sergeant Eddy Crispin said that ultimately, the response to violence has to be community-wide.
"No one agency can save our community," he said. "We collectively can."
---
Thursday, September 13, 2018 2:14 PM
DORCHESTER Reporter: With sweep of 5th Suffolk race, Miranda credits win to what if instincts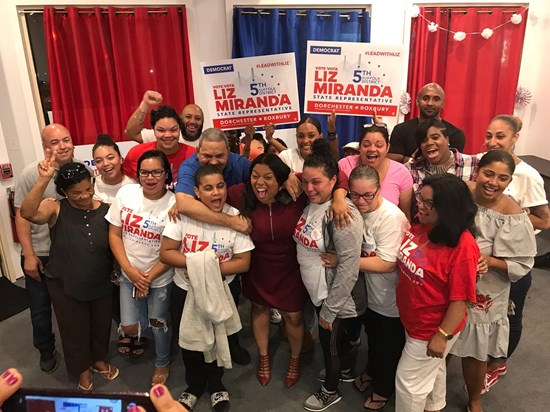 Liz Miranda was up at 7 a.m. last Tuesday, and promptly told she was banished from the campaign office. She cast her vote for the first time at her new home precinct, the Lilla J. Frederick School, went with her family to the Roxbury precinct where she grew up and spent most of her adult life, then it was out to the polls for election day with coffee and snacks in hand for volunteers.
Twelve hours later, the 38-year-old Miranda would clean up in her race for the 5th Suffolk District, winning all 20 precincts and 59 percent of the vote against primary opponent Darrin Howell.
A first time candidate who cut her teeth in organizing as a young teenager with the Dudley Street Neighborhood Initiative, Miranda said she wanted her campaign to be "inspirational, inclusive, and innovative from the beginning."
In an interview with the Reporter at Dudley Cafe, wearing a bright dress and occasionally fiddling with a wooden stir stick in her tea, Miranda looked ahead at the next few months. She still has a November election against independent candidate Althea Garrison, who held the seat for one term in the early 1990s before being unseated.
"I know everyone says there's election math and science, that you want to concentrate on people who vote," Miranda said, "but my gut, over and over again as I walked down streets, was like, "what if? What if we inspire the kid on the corner? What if we inspire the person who hasn't felt like they've been a part of the district?"
There is not a reliably easy way to gauge voter support on the day itself, Miranda noted, having worked at the polls for about eight years in other elections, but the generally sleepy district seemed more bustling than usual.
"I noticed at about 12 [to ] 1 [ p.m.] that something was happening," she said. "There was a lot of people at polls, so I had a feeling... What if this is an expanded turnout?"
If there was increased turnout, Miranda thought, "my hope was that those are the people we had activated that weren't necessarily part of the political landscape."
Turnout was three times that of the 2016 primary for the same seat, and won by incumbent Rep. Evandro Carvalho. He decided not to run again this year, instead mounting an ultimately unsuccessful campaign for the open Suffolk County District Attorney's seat.
The addiction epidemic, tackling sober home regulation, and advocating for basic quality-of-life investments are on her earliest to-do list should she make it to Beacon Hill, Miranda said, along with connecting with her likely new colleagues as well as those on the city side like her supporter City Council president Andrea Campbell.
"I would like to do some cross-state sector convening, around some of the issues that are really municipal," she said.
Miranda also plans to have a series of district town hall forums in October, "to help finalize some of my agenda, to leave that room for residents to sort of lead and say, "hey, we actually want you to champion these things," across the board."
The district — young, diverse, and with a lot of turnover in state representatives over the past decade — had two strong options in Miranda and Howell, a political organizer.
September concluded one leg of a long campaign, Miranda said, claiming multiple pairs of shoes and many nights of rest. Election Day itself was a madcap dash between polls and scheduling some Liz-time to get a pedicure before hopping right back out on the trail.
"It felt good, it felt really good, I got a lot of hugs," the new Democratic nominee said. "I don't think people really realize that there's a physical side of campaigning, there's sort of the mental side. And there's a very public side, but the private side of it is actually a very grueling, physically intensive experience."
Miranda knew that onlookers assumed she, a Cape Verdean woman from Roxbury, would focus on that area. That was not the approach she took — crisscrossing the district, reaching out to Vietnamese residents that make up a large chunk of the community, to the Grove Hall area she now calls home, and out further into Dorchester, which makes up the bulk of the seat.
"I haven't changed my spiel from day one," she said, "that I believe that being from here matters. I think having someone that could be as effective in the State House and in the community is also important."
Miranda's predecessors in the seat spoke well of her efforts to run an inclusive campaign before her win.
The decision to site Miranda campaign headquarters at 246 Bowdoin St., in the middle of the district and outside of the Roxbury area some considered her most reliable base of support, was notable, former state Rep. Charlotte Golar Richie said in early August.
"It means she sees Bowdoin Street as a place where they would like to see something positive happen in that area," said Golar Richie, who succeeded Garrison in the 5th Suffolk seat.
Soon after the polls closed Tuesday evening, her headquarters was already buzzing.
Former state Rep. Carlos Henriquez stood on a corner outside the campaign office next to a group of young men wearing Liz Miranda shirts. Volunteers shrieked happily nearby -- the mood was optimistic and campaign staff felt confident of a win but had not yet announced it to the group.
"I feel like you see, especially when you look at this corner, you see what community building is all about," Henriquez said. "You see family, you see friends, you see diversity of age, ethnicity, all backgrounds, and I think that truly speaks to the bridge builder that Liz has been and claimed through this campaign."
Miranda won her race on the same night as three other women of color were victorious in high profile competitive races -- Ayanna Pressley in the 7th Congressional District, Rachael Rollins in the Suffolk DA race, and Nika Elugardo in the state representative district around Jamaica Plain.
They, too, benefited from hard-fought campaigns to bring out populations that do not always vote in primaries.
"I didn't know that was everyone else's strategy, because actually people thought I was crazy," Miranda said of the broader context, "all the feedback I got was, they're not good voters, they're young, they're not going to go out to vote."
That proved a misread, at least in her district, Miranda said.
"I do think, now that we've seen the result, what it says is, we have to be for everyone," she said. "In order to change what is politically possible, it takes engagement as well as empowerment."
Jennifer Smith can be reached at jennifer.smith@dotnews.com, or follow her on Twitter at @JennDotSmith
---
Friday, August 24, 2018 10:51 AM
LIZ FEATURED IN Wellesley Alumnae Across Generations Have Worked for Equal Representation for Women
Liz was featured on Wellesley College's homepage today to talk about her work fighting for equal representation and running for office!
Check it out HERE.
---
Tuesday, August 7, 2018 1:53 PM
LIZ MIRANDA, CANDIDATE FOR 5TH SUFFOLK STATE REP, RECEIVES ENDORSEMENTS FROM BOSTON CITY COUNCIL PRESIDENT ANDREA CAMPBELL, SEVERAL OTHER ELECTED OFFICIALS
BOSTON, MA, 7 AUGUST 2018 – Liz Miranda, candidate for the 5th Suffolk District Massachusetts State Representative, recently received several high-profile endorsements, including Boston City Council President Andrea Campbell, former 5th Suffolk State Representative Marie St. Fleur, and current 7th Suffolk State Representative Chynah Tyler. These endorsements ride on the tails of several organizational endorsements, including the Mass Women's Political Caucus.

Current Boston City Council President Andrea Campbell stated of Miranda: "For years, I have known Liz to be a passionate, hardworking advocate for her community. Liz has a vision and plans to make Dorchester and Roxbury safer, healthier, and to increase opportunity for the residents in the neighborhood she grew up in. I am proud to endorse Liz Miranda to be the next State Representative of the 5th Suffolk District of Massachusetts." On the City Council, Campbell represents District 4, which includes much of the 5th Suffolk district in Dorchester.

Former 5th Suffolk district State Representative Marie St. Fleur spoke glowing praise of Miranda, saying: "I've known Liz since her days as a young 13-year-old community organizer in the Nubian Roots Youth Committee of the Dudley Street Neighborhood Initiative. I've seen her activism to improve community centers, schools, and working to address environmental injustices faced by residents of the Dudley Triangle. She was there at neighborhood cleanups, meetings, and reclaiming our playgrounds. And she is still there.

We were proud of her when she went off to Wellesley College as a first generation college student and returned to the community with new skills and even stronger commitment to enhancing the quality of life for all. She dived right back in working on issues of public safety and economic development.

In Liz we have a proven leader with strong negotiation, advocacy, and communication skills to push for our district on Beacon Hill. She is deeply committed to all of the neighborhoods she will represent."

7th Suffolk State Representative Chynah Tyler has also offered her support to the Liz Miranda campaign, stating, "Liz Miranda is a community champion with a shared vision towards creating a safer, healthier, and more vibrant Roxbury and Dorchester. Liz has the capacity to lead and her continued advocacy will help our neighborhoods on Beacon Hill. I am endorsing Liz Miranda because I know she will continue her commitment to fostering change as the next State Representative of the 5th Suffolk District." Rep Tyler is currently the only black woman serving in the 165-member House of Representatives.
---
Tuesday, July 31, 2018 1:23 PM
TWO HUNDRED ATTEND LIZ MIRANDA, 5TH SUFFOLK CANDIDATE, HQ OPENING
DORCHESTER, MA, 28 July 2018 – Spirits were high on Saturday, as the Committee to Liz Miranda, candidate for 5th Suffolk District Massachusetts State Representative, hosted over 200 guests during the grand opening of their new campaign headquarters on Bowdoin Street. The Committee welcomed guests and visitors, providing food, refreshments, and volunteer opportunities. As well as this, the Liz Miranda campaign accompanied dozens of new volunteers to canvass and drop campaign literature at hundreds of houses in the neighborhood.
"This election is about community, relationships, and people. What we saw here today was a culmination of all three: building community, through relationships, with people. I am honored to have had such a turnout – it shows that our message is resonating with voters, and I know they feel more connected to our campaign after today," Miranda said.
Liz Miranda is a well-known community advocate in the 5th Suffolk District, and has called this district home for her entire life. Recently, Governor Baker awarded Liz the BigTime Peace Award for her work with Score4More in organizing the SaveRStreets basketball tournament. The largest two-day peace event in the city, SaveRStreets works to combat gun violence in Roxbury. Liz is currently the director of the Hawthorne Youth and Community Center in the Jackson Square area, which provides out-of-school enrichment for youth and resources for families.
The Democratic primary election for the 5th Suffolk State Representative seat will be held on September 4th, 2018. The Liz Miranda campaign has knocked on thousands of doors and had hundreds of conversations with voters about the district's greatest challenges and what government can do to help overcome these challenges. Liz's main focus is on youth development and education, gun safety and reducing violence, and economic development and equality. She is a lifetime community organizer, running a people-centered campaign to build bridges and create lasting change in the 5th Suffolk District.