Lifelong Resident
Community Builder
Youth Champion

Dear neighbor,
I am incredibly grateful for your support and am honored to serve as your upcoming State Representative for the 5th Suffolk District. We broke a 40-year record for voter turn out and I could not have done it without my family, friends, neighbors, and community leaders, like you, by my side. Together, we will identify the top priorities for our district so that I can best serve my community in the State House.
I will be sworn in as State Representative on Wednesday, January 2nd. After the official ceremony is held, I will be hosting an event within our district to celebrate our win. Stay tuned!
Until January 2nd, be sure to direct all neighborhood inquiries to acting Representative Evandro C. Carvalho. I look forward to collaborating with you all on a wide range of issues.
Sincerely yours,
~Liz

News
Wednesday, November 28, 2018 9:13 PM
Worcester Telegram: Blacks typically taken for granted by Democrats
By: Clive McFarlane
Nika Elugardo said she held her nose the first time she voted. It was in 1992. She was 19, and Bill Clinton was the Democratic presidential nominee.
"I was sick to my stomach, because I hated his policies on race," she said in an appearance on WGBH's "Basic Black" following her stunning mid-term electoral victory in the 15th Suffolk/Norfolk District over Jeffrey Sanchez, veteran Democratic state lawmaker and chairman of the Ways and Means Committee.
"I hated his polices on so-called welfare, and I hated his polices on criminal justice."
That's been the bane of the African-American experience with the modern-day Democratic Party. The party doesn't treat them right, but jumping ship would be like jumping out of the frying pan into the fire. So people like Ms. Elugardo stayed and held their nose.
Well, that might be changing.
The 2018 mid-term elections might have been a referendum on President Donald Trump and his policies, but they were also a gut-check for the Democratic Party, which saw an infusion of young, progressive voices, most of them women and many of them African-Americans, and some who are unapologetic in their criticism of the party.
Many note that their rise to power came without the backing of the party machine and suggest that one of their mandates is to push the party to be inclusive in its deeds, rather than just in its rhetoric.
"What needs to be said in a very straightforward way is that the Democratic Party is straight-up racist," Ms. Elugardo said during her WGBH appearance.
"The structural racism that we're talking about dismantling is in the party."

Liz Miranda, the community organizer who won the 5th Suffolk District seat, also spoke in that same WGBH event to what she believed to have been the lack of support from the state Democratic party.
"I think the Democratic Party of our commonwealth and the country needs to take a look at themselves," she said, saying that she and others won without major support from them during the primary.
"I'm Democrat. I am gung-ho for the party, but you see yourself fighting against the system that is supposed to support you."
So far the party brass has responded understandingly.
At a fundraiser earlier this year, Tom Perez, the chairman of the Democratic National Committee, apologized for the party taking African-Americans for granted.
"I am sorry," he said. "We took too many people for granted and African-Americans - our most loyal constituency - we all too frequently took for granted. That is a shame on us, folks, and for that I apologize. And for that I say, it will never happen again."
Gus Bickford, chairman of the Massachusetts Democratic Party, was singled out by Rachael Rollins, winner of the Suffolk district attorney's race, as not doing enough to help her candidacy. She noted, for example, that campaign literature that the party had her passing out did not include her or others like Ms. Miranda.

"We are working every day to build a more inclusive and representative Party here in Massachusetts, and we always welcome constructive feedback on how we can do that better," Mr. Bickford told me in an email.
"We are immensely proud that the slate of Democratic candidates elected earlier this month is among the most diverse in our state's history, and we look forward to working with them to hold ourselves accountable and continue fighting for every community here in the Commonwealth - including communities of color."
Congressman Jim McGovern, who in 2006 bucked the state's party machinery by being the first high-profile politician to endorse the successful candidacy of then political unknown Deval Patrick for governor, said the criticism of the party is warranted.
"The party has taken African-Americans for granted, and we need to build an inclusive and diverse party that involves people from the top down. Business as usual has to end," he said in an interview Tuesday.
"I have felt that way for a long time. We need to listen to what our critics are saying, and make it better. If not, we are going to lose our constituencies.
"Sometimes it is difficult for someone running the show to admit they can do things better. That is a challenge we need to overcome. We ask for their votes, but when decisions are being made, they are not a priority; they are not always at the table. That needs to change."
Utah's Mia Love, the first black Republican woman to serve in Congress and who lost her re-election bid this year to a Democrat, perhaps best captured the dynamics of party politics and minority constituents.

"This election experience ... shines a spotlight on the problems Washington politicians have with minorities and black Americans - it's transactional. It's not personal," she said.
"We feel like politicians claim they know what's best for us from a safe distance yet they're never willing to take us home."
We'll see if that changes in the next two years, but one thing is for sure, if you are a Democratic incumbent looking toward re-election in 2020, you should know you've been put on notice by your most loyal constituency.
---
Tuesday, November 13, 2018 9:04 PM
By: Michael Norton
MASSACHUSETTS DEMOCRATS, who won race after race in Tuesday's elections, appear to have a some racial tensions within their party.
In a televised interview that aired Friday night on WGBH, Suffolk County District Attorney-elect Rachael Rollins and state representatives-elect Nika Elugardo and Liz Miranda, all of Boston, pledged to be forceful agents of change, discussed how they built winning campaigns, and raised serious concerns with leadership in the Democratic party, with Elugardo describing the party as "straight-up racist."
"What I found was a little disappointing was that I think that the Democratic party of our commonwealth and across the country needs to take a look at themselves," Miranda told Basic Black host Callie Crossley. "We all won without major support for our primaries."
---
Thursday, October 11, 2018 9:22 AM
Bay State Banner: Community discusses response to violence
Questions swirled after five homicides happened in rapid succession last weekend in Boston: What led to the uptick in violence? Will there be a cycle of retaliation? Is violence spiraling out of control?
At her Bowdoin Street campaign office, just blocks from where one young man was gunned down, community organizer Liz Miranda opened a community meeting, co-hosted with youth worker Romilda Pereira, by simply asking the 50-or-so community residents how they were coping.
In their answers, Dorchester and Roxbury residents expressed anger, frustration and fear.
"I watched a car pull up and shoot my neighbor dead," one woman said, choking back tears. "I heard five gunshots and ran toward him as they continued to fire into him. I cradled a kid who could have been my son as he died. I didn't sleep last night."

Community support
Liz Miranda and Romilda Pereira (far left) host the meeting. Banner Photo
As the woman wept, Miranda pointed to the women sitting in the front row of folding metal chairs.
"You have multiple mothers with you in the front row," she said. "Mothers who have lost their sons."
The meeting continued as the women comforted the witness to the latest homicide in the neighborhood.
Miranda and Pereira said they called the meeting with the aim of helping neighbors work together to prevent violence and avail themselves of resources.
"We need to do better to work together to heal," said Pereira, a youth worker who knew two of the slain youths. "They were on my caseload, kids I've worked with," she said.
Police officers including Area B-3 Captain Haseeb Hosein were in attendance as were Rachael Rollins, the Democratic nominee for Suffolk County District Attorney, state Sen. Sonia Chang-Diaz and the Democratic nominee for 15th Suffolk District representative, Nika Elugardo.
Pereira told meeting participants that she witnessed and participated in acts of violence as a teenager and wants to do her part to end the cycle of violence in the community.
"I am 36, but every time this happens, it re-traumatizes me," she said. "I want better for my children and I want better for all the children in this community."
Hosein told the Banner officials have no explanation for the rash of shootings last weekend, all of which were thought to be unrelated.
"Why this is happening, no one knows," he said. "We had a quiet summer. We can't put our finger on any one reason. It's just the ebb and flow of violence."
Hosein noted that shootings are down, with 45 fewer people shot so far this year over last year, although the rate of homicides — 43 so far in 2018 — is higher than last year.
He said that Mayor Martin Walsh and Police Commissioner William Gross have told commanders to use whatever resources they need to keep communities safe.
"We're here," he said. "We'll be visible. We're accessible. You can call us any time."
Earlier in the day, Hosein met with the mother of Terrell White, who was shot and killed on Itasca Street.
Trauma support
Miranda, who lost her younger brother to violence last year, acknowledged that survivors of violence need support.
"I know what it feels like to get that call and not know what to do in the next 24, 48 or 72 hours," she said.
Charlene Luma, director of the city's Trauma Response Team, said her group reaches out to family members, friends and witnesses of violence. She told audience members she and others from the team are available to help.
"There may be times when you're not ready to talk to anybody," she said. "What's good about our team is that we're ready to talk to you at any time."
The Rev. Mariama White-Hammond said that she and others in the community have provided services to people suffering from violence-related trauma for years without city support and suggested that the city incorporate more community residents into its trauma response strategy.
"If there is a need, there are people willing to help," she said.
Boston Police Sergeant Eddy Crispin said that ultimately, the response to violence has to be community-wide.
"No one agency can save our community," he said. "We collectively can."
---
Thursday, September 13, 2018 2:14 PM
DORCHESTER Reporter: With sweep of 5th Suffolk race, Miranda credits win to what if instincts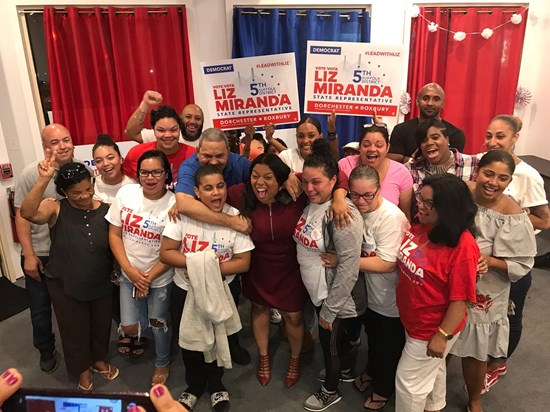 Liz Miranda was up at 7 a.m. last Tuesday, and promptly told she was banished from the campaign office. She cast her vote for the first time at her new home precinct, the Lilla J. Frederick School, went with her family to the Roxbury precinct where she grew up and spent most of her adult life, then it was out to the polls for election day with coffee and snacks in hand for volunteers.
Twelve hours later, the 38-year-old Miranda would clean up in her race for the 5th Suffolk District, winning all 20 precincts and 59 percent of the vote against primary opponent Darrin Howell.
A first time candidate who cut her teeth in organizing as a young teenager with the Dudley Street Neighborhood Initiative, Miranda said she wanted her campaign to be "inspirational, inclusive, and innovative from the beginning."
In an interview with the Reporter at Dudley Cafe, wearing a bright dress and occasionally fiddling with a wooden stir stick in her tea, Miranda looked ahead at the next few months. She still has a November election against independent candidate Althea Garrison, who held the seat for one term in the early 1990s before being unseated.
"I know everyone says there's election math and science, that you want to concentrate on people who vote," Miranda said, "but my gut, over and over again as I walked down streets, was like, "what if? What if we inspire the kid on the corner? What if we inspire the person who hasn't felt like they've been a part of the district?"
There is not a reliably easy way to gauge voter support on the day itself, Miranda noted, having worked at the polls for about eight years in other elections, but the generally sleepy district seemed more bustling than usual.
"I noticed at about 12 [to ] 1 [ p.m.] that something was happening," she said. "There was a lot of people at polls, so I had a feeling... What if this is an expanded turnout?"
If there was increased turnout, Miranda thought, "my hope was that those are the people we had activated that weren't necessarily part of the political landscape."
Turnout was three times that of the 2016 primary for the same seat, and won by incumbent Rep. Evandro Carvalho. He decided not to run again this year, instead mounting an ultimately unsuccessful campaign for the open Suffolk County District Attorney's seat.
The addiction epidemic, tackling sober home regulation, and advocating for basic quality-of-life investments are on her earliest to-do list should she make it to Beacon Hill, Miranda said, along with connecting with her likely new colleagues as well as those on the city side like her supporter City Council president Andrea Campbell.
"I would like to do some cross-state sector convening, around some of the issues that are really municipal," she said.
Miranda also plans to have a series of district town hall forums in October, "to help finalize some of my agenda, to leave that room for residents to sort of lead and say, "hey, we actually want you to champion these things," across the board."
The district — young, diverse, and with a lot of turnover in state representatives over the past decade — had two strong options in Miranda and Howell, a political organizer.
September concluded one leg of a long campaign, Miranda said, claiming multiple pairs of shoes and many nights of rest. Election Day itself was a madcap dash between polls and scheduling some Liz-time to get a pedicure before hopping right back out on the trail.
"It felt good, it felt really good, I got a lot of hugs," the new Democratic nominee said. "I don't think people really realize that there's a physical side of campaigning, there's sort of the mental side. And there's a very public side, but the private side of it is actually a very grueling, physically intensive experience."
Miranda knew that onlookers assumed she, a Cape Verdean woman from Roxbury, would focus on that area. That was not the approach she took — crisscrossing the district, reaching out to Vietnamese residents that make up a large chunk of the community, to the Grove Hall area she now calls home, and out further into Dorchester, which makes up the bulk of the seat.
"I haven't changed my spiel from day one," she said, "that I believe that being from here matters. I think having someone that could be as effective in the State House and in the community is also important."
Miranda's predecessors in the seat spoke well of her efforts to run an inclusive campaign before her win.
The decision to site Miranda campaign headquarters at 246 Bowdoin St., in the middle of the district and outside of the Roxbury area some considered her most reliable base of support, was notable, former state Rep. Charlotte Golar Richie said in early August.
"It means she sees Bowdoin Street as a place where they would like to see something positive happen in that area," said Golar Richie, who succeeded Garrison in the 5th Suffolk seat.
Soon after the polls closed Tuesday evening, her headquarters was already buzzing.
Former state Rep. Carlos Henriquez stood on a corner outside the campaign office next to a group of young men wearing Liz Miranda shirts. Volunteers shrieked happily nearby -- the mood was optimistic and campaign staff felt confident of a win but had not yet announced it to the group.
"I feel like you see, especially when you look at this corner, you see what community building is all about," Henriquez said. "You see family, you see friends, you see diversity of age, ethnicity, all backgrounds, and I think that truly speaks to the bridge builder that Liz has been and claimed through this campaign."
Miranda won her race on the same night as three other women of color were victorious in high profile competitive races -- Ayanna Pressley in the 7th Congressional District, Rachael Rollins in the Suffolk DA race, and Nika Elugardo in the state representative district around Jamaica Plain.
They, too, benefited from hard-fought campaigns to bring out populations that do not always vote in primaries.
"I didn't know that was everyone else's strategy, because actually people thought I was crazy," Miranda said of the broader context, "all the feedback I got was, they're not good voters, they're young, they're not going to go out to vote."
That proved a misread, at least in her district, Miranda said.
"I do think, now that we've seen the result, what it says is, we have to be for everyone," she said. "In order to change what is politically possible, it takes engagement as well as empowerment."
Jennifer Smith can be reached at jennifer.smith@dotnews.com, or follow her on Twitter at @JennDotSmith
---
Friday, August 24, 2018 10:51 AM
LIZ FEATURED IN Wellesley Alumnae Across Generations Have Worked for Equal Representation for Women
Liz was featured on Wellesley College's homepage today to talk about her work fighting for equal representation and running for office!
Check it out HERE.